Skylight's commitment to the safety of vulnerable families especially Tamariki and Rangatahi. This reporting Policy has been developed in accordance with the Vulnerable Children Act 2014 (VCA) and Children, Young Persons, and Their Families (Oranga Tamariki) Legislation Act 2017.
Introduction
This Policy outlines the Board's Commitment to Child Protection and recognises the important role and reasonability of all our staff in the protection of our tamariki and rangatahi. It includes the Board's expectations when child abuse and neglect, is reported, or suspected by us.
All staff members, (including contractors and volunteers), are expected to be familiar with this policy, its associated procedures and protocols, and agrees to abide by them.
Purpose
A child abuse and neglect policy is a mandatory requirement for services and their governance board under the VCA. The Skylight Board has an obligation to ensure the wellbeing and safety of tamariki and rangatahi. A Child Abuse & Neglect Policy must:
| | |
| --- | --- |
| (i) | be written down and in use |
| (ii) | say how suspected abuse and neglect will be identified and reported |
| (iii) | be reviewed every three years |
| (iv) | must be part of the induction of all staff, volunteers and contractors |
Guidelines
The necessary measures must be taken to ensure tamariki and rangatahi's safety while engaged with Skylight's Services.
Supporting parents and families to keep their tamariki and rangatahi safe, and
The protection of tamariki and rangatahi who are vulnerable (e.g. at risk of experiencing and/or witnessing domestic violence or any other forms of violence and abuse)
Applying the principles of trauma-informed practice and engagement, with all clients, from the first contact with the organisation.
Encouraging Skylight's staff to actively advocate against any form of violence
Actively encouraging and supporting clients to seek services and support from statutory and other agencies as needed and where appropriate, without comprising the safety of tamariki and rangatahi.
Reporting all suspected serious incidents of potential harm or abuse and neglect, either with the cooperation of the client, parent or whānau member who disclosed the information or based on waiver of confidentiality (see Confidentiality Agreement – Breaching Confidentiality, Clinical Services Practice Framework)
Ensuring all Skylight employees, contractors and employees of organisations contracted to deliver Skylight services, have awareness, an understanding, and know how to action, the Skylight vulnerable tamariki and rangatahi child abuse and neglect reporting policy.
Ensuring that all counsellors, staff and contractors delivering counselling/support services for Skylight have received training in; 
| | |
| --- | --- |
| (i) | the nature and effects of trauma and domestic violence |
| (ii) | the impact of the cycle of violence |
| (iii) | recognition of signs that people may be experiencing abuse or neglect |
| (iv) | the most effective and safe ways to talk about these issues with tamariki and rangatahi, their parents, caregivers and families |
Ensuring that all Skylight employees, contractors and employees of organisations contracted to deliver Skylight services, have been screened for previous convictions, relating to abuse of tamariki and rangatahi.
Responding to suspected violence or abuse
Tamariki and Rangatahi safety is of paramount concern.
When the words, actions or behaviour of a client, their parent/s or whānau, if tamariki or rangatahi, indicates that they may be at serious risk of violence, abuse or neglect the safety of the tamariki and rangatahi immediately becomes the paramount concern, overriding all other goals.
Procedures when child abuse or neglect is suspected or disclosed?
When a tamariki or rangatahi, their parent/s or whānau disclose that the tamariki or rangatahi may have been, has been or is currently being abused or neglected, the Skylight's staff role is to:
Procedure
Listen to the concerns or disclosures.
If the disclosure comes from a tamariki or rangatahi themselves, reassure them.
Tell them that you will need to discuss their concerns with your Manager. Do not make promises you can't keep.
Implement the following procedure;
For a step by step process, refer to the flow chart below: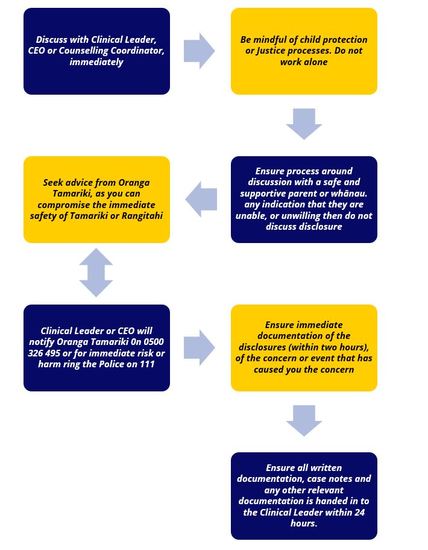 In the event of 'clear harm' to a child and when the client's parent/s and/or whānau are not able to act to protect the child, discuss the situation promptly, with the administrative supervisor (this will usually be the Clinical Team Leader, CEO or Counselling Coordinator) or with an external clinical supervisor.
Other considerations and processes that need to be discussed
Ensure that if a discussion has taken place with a parent or whānau member, they need to be advised not to disclose the concerns to anyone whose response may increase the level of immediate harm to the child or prevent the effective investigation of the concerns.
Assess with the tamariki and rangatahi (as appropriate to their age and understanding), and/or their support person, the level of immediate harm and their readiness, ability or willingness to take steps to ensure safety.
Support the safety of the parent/s and/or whānau to deal with any 'fall out' which may result in compromising the safety of the tamariki or rangatahi.
Provide information about the range of tamariki & rangatahi and whānau focussed services available to assist and explain the role of these services and how they can be accessed.
Liaise with and/or make referrals to other community agencies on behalf of the client and their whānau, as agreed with them.
Additionally, ensure they are aware that you need to waive confidentiality, to make a direct report to Oranga Tamariki.
General Recommendations
At the earliest opportunity, the Skylight staff responsible for making the report must record within the case notes:
 all evidence of the nature of the concerns (including any specific incidents of abuse, dates, location, time, what happened, and who was present),
any other relevant information or disclosures made by the client, their parent/s or whānau (if tamariki or rangatahi), regarding any safety risks,
the names of the Skylight staff involved in making the decision to report and the reasons for that decision,
the date and time of reporting and the name of the agency's staff/office to which the report was made,
this report must be signed and dated by the Skylight staff member or Contract Counsellor who prepared it, then placed on the client file and made available to the investigating agency on request. (refer to flow chart and procedures around time frames.)
What is not Skylight's role?
It is not Skylight's role to investigate or assess incidents of actual or suspected abuse or to interview adults or children, about the nature or circumstances of the abuse which may have occurred. 
It is important that we do not:
Investigate the allegations of client abuse (including tamariki or rangatahi abuse) ourselves, by interviewing adults or children about the nature or circumstances of the abuse which may have occurred.
Question or counsel the alleged perpetrator/abuser.
Such actions can seriously reduce the ability of the investigating statutory agency to carry out their role effectively and make the tamariki or young person unsafe.
Follow up to Reporting
Providing ongoing support to the client, their parent/s and/or whānau 
Once a report has been made, whether in consultation with the client or using the waiver of confidentiality, the Skylight staff member may continue to be available to provide ongoing support, if appropriate.
Skylight's trauma-informed practice guidelines acknowledge that the engagement with any agency can be the source of re-traumatisation. Skylight's staff will act promptly to prevent or mitigate the risk of re-traumatisation in relation to any issues, as a result of the report being made.
The decision on the appropriateness and safety of continuing to provide that support role, will be made in consultation with the client (if appropriate), their parents (if applicable) and with the staff member's administrative and clinical supervisors.
In the circumstance where Skylight has made a report using waiver of confidentiality, and this has resulted in the tamariki or rangatahi and their parents not wanting to continue working with Skylight, a referral to an alternative service will be offered.
Legal protection for Skylight staff
The Children, Young Persons and their Families Act 1989, provides legal protection for anyone who, in good faith, makes a report of actual or suspected child abuse to Oranga Tamariki. This means that clients, their parents and families cannot take any legal action e.g.: defamation proceedings - against a Skylight staff member who files a report in accordance with the procedures set out above.