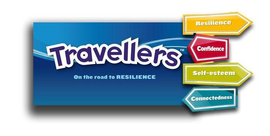 The Travellers Programme, funded by the Ministry of Health, is an innovative, small group programme for young people. It aims to build their resilience and key life skills.
Travellers has been running in schools for over 20 years.
Young people today experience change at a more rapid pace than previous generations. This means some will benefit from the help and support of our Travellers Programme as they go through transitions like:
• starting a new school
• changing friendships
• moving cities or countries
• dealing with family and personal health issues.
What Travellers involves
Travellers is an in-school, eight week programme that teaches young people skills to cope with change, loss, and transition. It builds their self-esteem and confidence, so they can face other challenges in future. Travellers supports students at school by helping them to build resilience and enhance connections by:      
• exploring their change, loss, and transition experiences
• navigating their movement through change, loss, and transition in safe and adaptive ways
• linking how they think and feel about change, loss, and transition situations and how their thoughts and feelings influence how they cope    and respond
• enhancing supportive environments and improving their learning outcomes.
Travellers Programme Information Brochure 
Travellers Programme sessions overview