Waves
The eight week Waves programme funded by the Ministry of Health, aims to support adults aged 18 and older who have been bereaved by suicide.
Waves Facilitator Training 11 November 2022
It was great to see the months of planning for the Waves facilitation training come together and to welcome participants. Facilitators of the programme came from Auckland, Rotorua, the West Coast, Canterbury, and Wairarapa, to Skylight's office in Wellington to receive the full day training. 
Dr Chris Bowden shared the updated programme content and discussed why certain changes have been made. This refreshed version of the Waves programme aims to build upon what has already been established by Dr Bowden and offer the facilitators across Aotearoa a kete full of resources - making Waves a living programme that can be adaptable to different communities. 
Waves aims to confront and challenge maladaptive coping, build safety and strong relationships, teach good coping skills, and highlight the trauma of suicide.
Training in other parts of the country will take place in the New Year 2023.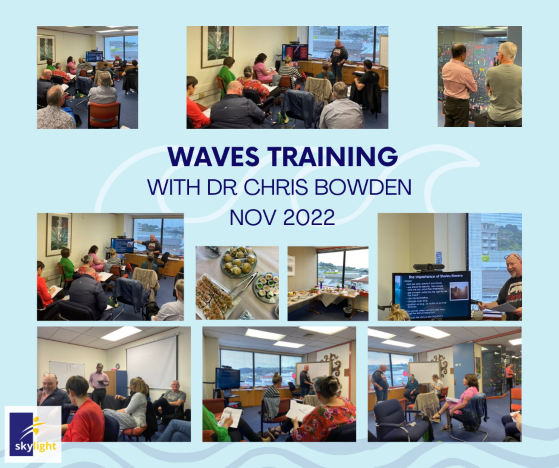 Travellers Training
Travellers is an in-school, eight week programme funded by the Ministry of Health. The programme teaches young people skills to cope with change, loss, and transition. Upcoming training for Travellers trainers:
For further information or to register your interest please contact us [email protected]  
Matika
An eight week bereavement support programme for tamariki. Matika provides an opportunity for children who have experienced the death of someone close to them to connect with others in their own age group who are experiencing a similar loss. Together the children learn about the big emotions of grief, ways to cope with the loss and ways they can continue to feel close to the person who has died.
This programme has now commenced in Wellington. 
Expressions of interest are invited for a programme in the new year 2023.email [email protected]